Recipes
Truffle honey glazed quail with cauliflower couscous
A mouthwatering dish, ideal for sharing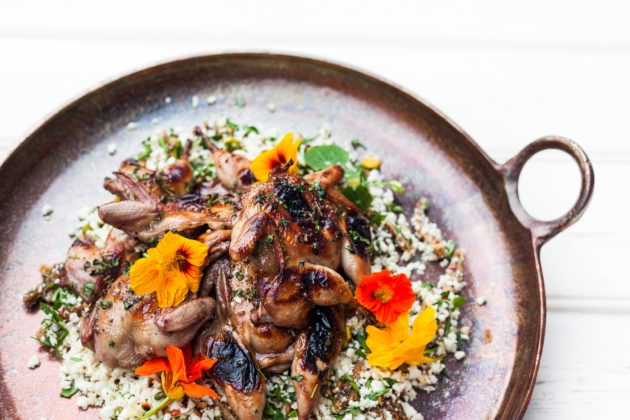 Ingredients
4 whole quail, deboned and butterflied

1 jar of Tasmanian Truffles Truffle Honey

4 sprigs fresh thyme

A good pinch of salt and pepper

½ head of cauliflower florets

1 tbs fresh parsley, chopped

1 tbs fresh mint, chopped
1 tbs fresh thyme, chopped

¼ cup pine nuts, toasted

3 dried figs, finely chopped

1 tsp chilli flakes

2 tbs Tasmanian Truffle Oil

Juice of 1 lemon
Preparation
Place the quail in a large glass bowl and set aside to allow it to come to room temperature. In a small saucepan place the truffle honey and allow to melt to a runny consistency. Pour honey over the quail, add the thyme, salt and pepper. Massage through and allow to marinate for 20 minutes.

Heat grill to 200 C and place the quail skin side down on a baking tray lined with baking paper. Cook for 2 minutes and then flip the quail so the skin side is up and baste the skin with any residual marinade. Cook for a further 6 minutes or until the skin is golden and glazed.

Meanwhile add the cauliflower florets to the bowl of a food processor and pulse until it resembles couscous. Transfer to a mixing bowl and fold through the remaining ingredients and serve on a dish, then top with the quail. Allow the juices of the quail to run through the couscous.